This is a Slimming World vegetable lasagne which is vegetarian and Syn free (uses one healthy extra A choice per person). It is delicious and loved by vegetarians as well as meat-eaters as a tasty Slimming World lasagne. It is full of flavour but easy to prepare and then leave in the oven to cook.
If you don't like any of the vegetables included it would be easy to swap them for other vegetables if preferred.
Jump to:
Adding extra veggies to this Slimming World vegetable lasagne
This Slimming World lasagne recipe is packed full of vegetables but if you want to have some on the side or a salad on the side too then go for it!
If you follow Slimming World then you will know many vegetables are referred to as speed foods.
Vegetables are low in calories compared to their density. This essentially means that they fill you up for very few calories.
The more vegetables you have in a meal either as a side dish or mixed in with the meal itself the lower calorie the meal tends to be. A filling but low calorie meal is perfect for weight loss.
All my recipes include vegetables where possible but do feel free to add more as an accompaniment when you can. Always choose vegetables that you enjoy because otherwise you will begrudge eating them and are more likely to before long stop cooking them at all.
Trying vegetables cooked differently or with herbs and spices can make them a little more exciting too.
What is Quark?
It is a soft cheese made with skimmed milk. It's rather like Philadelphia in its consistency and, due to the fat-free aspect of it, there is little flavour. Because of this, quark on its own is not often enjoyed.
The truth is that it does not taste great on its own without any flavourings and so people think they don't like it! Having it with a little sweetener and some fruit like strawberries is delicious!
You can't taste it in my mushroom pate recipe and I also use it to make a lasagne cheese sauce. It is great when you know how to use it best.
How can quark be used
Quark is, due to its limited flavour, very versatile and useful in some great recipes. I frequently use it in both sweet and savoury recipes and share a variety of my favourite quark recipes here.
I often use quark in recipes in my ready-made meal plans to help you to find ways you can enjoy using it so do check them out.
When buying quark do keep an eye out for flavoured varieties as, although they taste nicer from the carton, they usually are a little higher in calories so could be synned or pointed on weight loss plans. It is usually much better to flavour it yourself.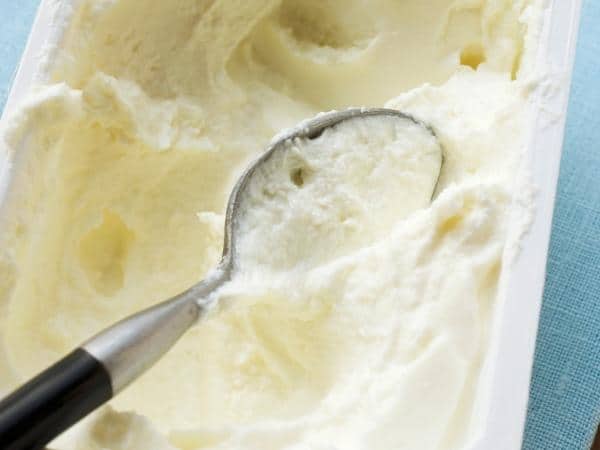 Slimming World Lunches
If you are eating healthily or following Slimming World then you may have difficulty in finding lunches for work.
This is just one of many amazing Slimming World lunch ideas I have found so do check out my other recipes for more ideas.
If you take lunch then you are so much less likely to buy food which inevitably will be less healthy. Taking a variety of food throughout the week to work keeps your lunchtimes interesting and stops you getting bored.
Even if, like me, you work alone at home it can make such a difference having your food already prepared for you. Why not give it a go and make sure you build a variety of lunches into your weekly meal plan.
More Slimming World recipes you may enjoy
If you like the look of this Slimming World vegetable lasagne don't forget to check out my recipe menu for more tasty recipes including roasted Mediterranean vegetables in a balsamic tomato sauce.
For more pasta-based recipes for all the family check out my ultimate pasta recipe post they vary from ones with butternut squash to ones with chicken in there is something for everyone.
If this Slimming World lasagne with a quark cheese sauce has made you realise you should use quark more and are looking for more recipes with it check out my ultimate quark recipe list here.
If you are vegetarian or want to eat more vegetarian or plant-based meals I have a full list of vegetarian and vegan recipes which are perfect on Slimming World here.
If you, like me, love to find syn free recipes so that you can save syns for desserts, chocolate or gin then pop and check out these syn free recipes. You can even make a syn free chip shop curry sauce.
Yum
Etsy weight loss buys
If you are like me and like buying fun new items to motivate your weight loss, then here are my favourites.
Etsy is great for kitchen and weight loss goodies. I could spend hours browsing there.
There are so many great food diaries too so you can record your meal plans and track your weight loss to keep a record of the good and bad weeks.
Click the photos to have a look for yourself.
Weight loss Guides
I have a lot of Unofficial Slimming World guides and weight loss information along with support if you want to exercise for weight loss including if you have a condition like fibromyalgia.
Have a good look around and see how I can help you achieve your weight loss goals. Request my free resources to get you started too!
Here are some quick jump buttons to help you find my most popular Slimming World guides (all unofficial) and be sure to check out all my Healthy recipes too.
Print
Recipe
Mediterranean Vegetable Lasagne - Slimming World Lasagne Recipe
Author:

JustAverageJen

Prep Time:

20 Minutes

Cook Time:

45 Minutes

Total Time:

1 hour 5 minutes

Yield:

4

Portions

1

x

Category:

Main meal

Method:

Hob and oven

Cuisine:

Italian

Diet:

Low Calorie
---
Description
The best vegetable lasagne recipe out there is this Mediterranean vegetable lasagne which is even syn free on Slimming World!
---
Spray Frylight or other 1 cal cooking spray
1 Courgette (cubed)
1 Aubergine (cubed)
3 Peppers - red, orange or yellow (deseeded and cut into bite size chunks)
1 large Red Onion (quartered then sliced)
2 500g Cartons Passata
30 g Fresh basil (torn)
250 g Baby Plum Tomatoes
400 g Lasagne Sheets (dried)
500 g Quark
¼ tsp Mustard Powder
1 Egg
160 g 50% Less Fat Cheddar (grated)
150 ml Vegetable Stock
Salad To Serve
1 Fresh Tomato Sliced for top if wanted
---
Instructions
Preheat oven to 200°c
Using a large saucepan add the Passata, basil, aubergine and courgette and heat on a medium temperature for 10-15 minutes
Meanwhile using a large frying pan fry the onion and pepper in Frylight for approximately 10 minutes or until starting to brown slightly and softening.
In a mixing bowl combine the quark, egg, mustard powder and vegetable stock until well combined. Then set this mixture aside.
Mix together the vegetables in the frying pan and saucepan.
Carefully layer the vegetable mixture and lasagne sheets in a large ovenproof dish.
Pour the quark mixture on top. Then top with the grated cheese.
Bake for 40-45 minutes until browned lightly on top. Serve hot with a side salad.
---
Equipment
---
Keywords: Slimming world, Lasagne, Lasagna, syn free, low syn, Mediterranean, vegetarian
Recipe Card powered by