This Slimming World mushroom stroganoff recipe is really easy to make and so tasty. It will soon become a family favourite. you could even grow your own mushrooms for it.
It is nice with rice, a jacket potato or you could spoon it over boiled pasta.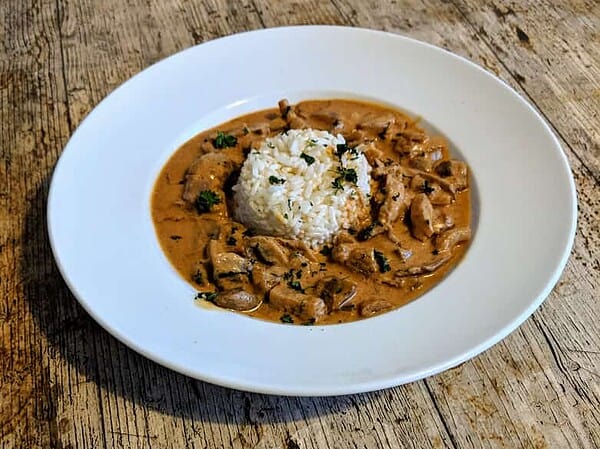 Yum
Jump to:
Do you like mushrooms? They are probably one of my favourite vegetables and are so good for you too.
I love mushroom soup and mushroom risotto, have you tried my recipes for either of those?
If you have lots of mushrooms to use up check out my mushroom tips here.
I have lots of recipes in my dedicated recipe section I am sure you will enjoy. Pop over and take a look and get some new recipes on your meal plan this week.
Helpful mushroom tips
If you remove any cellophane from your mushrooms and keep them dark in a paper bag they will last longer.
If using mushrooms in quiche it is better to cook them first. They hold a lot of water so can make the quiche soggy otherwise.
Mushrooms do not need to be in the fridge but should be kept cool so if you have space the fridge is the best place for them.
If you have too many to use mushrooms are easy to dry and can be used dried in many dishes or rehydrated if preferred.
Why you need vegetables to lose weight
If you follow Slimming World you will instantly know what I am talking about when I say speed vegetables.
As you know, all the meals on your meal plan need to include speed vegetables. There are lots of vegetables in this recipe but there is nothing stopping you from adding more on the side.
If you don't follow Slimming World then this could still be of interest to you for whatever diet you follow or perhaps just to be a little healthier.
Check out my ready-made meal plans to help you along the way with lots of my delicious Slimming World recipes including syn free recipes.
Remember to keep a check on the vitamins and minerals you consume and ensure you are eating a healthy amount of everything including calcium, vitamin c, iron, vitamin d, vitamin b12 and fibre as well as eating plenty of speed foods!
How many vegetables should I eat?
Slimming World advises you to ensure that ⅓ of every meal is made up of speed foods. Other than possibly for breakfast this is likely to be vegetables! Even if you do not follow Slimming World this is still great advice for healthy living.
The reason the specific vegetables are deemed as speed vegetables is that they have a low-calorie density.
This means if you eat 100g of spinach, for example, it is just 23 calories and obviously, 100g of anything would fill you up significantly. On the other hand, 100g of crisps, which would be just as filling, is around 536 calories!
What nutrients are in vegetables?
Whether you follow Slimming World or not, adding vegetables to your meal not only adds vitamin C and all the other nutrients that vegetables contain but will also help you lead a more balanced healthy lifestyle and potentially lose weight!
Many vegetables are also high in B vitamins, vitamin A, iron and other nutrients.
Don't forget too that vegetables are high in fibre and as such you are less likely to get constipation and need my Slimming World constipation tips!
Are frozen or canned vegetables good?
As long as they are not cooked or canned in any oil etc, frozen or canned vegetables have the same nutritional value as fresh vegetables and are a great way to save money and time.
If you buy vegetables that have been reduced at the end of the day you can always freeze them to use in a recipe in the future.
Here is a list of all the current Slimming World speed vegetables. Feel free to save it and, of course, share it with your friends.
Handy speed food infographic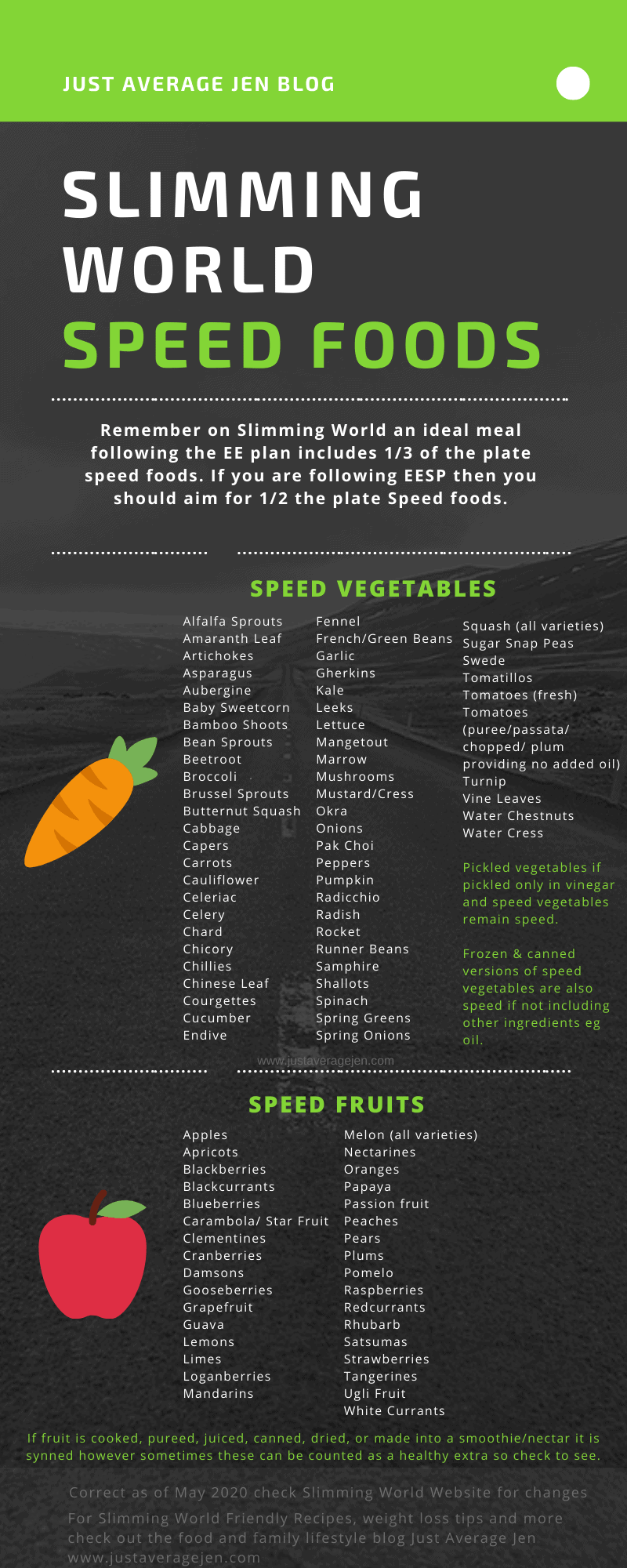 My favourites for this dish
For this Slimming World mushroom stroganoff recipe, I would definitely recommend a non-stick pan. My favourite ones are Judge Radiant pans.
If you struggle with cooking rice then microwave from frozen rice is really easy. The one I buy is from Morrisons and only takes 3 minutes a bag!
Buy whichever mushrooms you can afford, this mushroom stroganoff will still be tasty with the cheap white mushrooms so don't worry if the mixed mushrooms are too expensive. The weight is key so as long as the weight is equivalent then that will be just fine.
I prefer stock pots but stock cubes are usually cheaper and would work just as well if you want to save a bit of money.
More Slimming World recipes you may enjoy
If you don't fancy this but would like another recipe with rice, check out my huge selection of rice recipes here and check out my tips for cooking the perfect rice.
Another chicken and mushroom recipe is Chicken and mushroom curry which is popular as mushrooms are so healthy.
If you are vegetarian or want to eat more vegetarian or plant-based meals I have a full list of vegetarian and vegan recipes which are perfect on Slimming World here.
Which meal do you struggle with ideas for on Slimming World? I have lists of breakfast ideas and lunch ideas if that helps you.
If you, like me, love to find syn free recipes so that you can save syns for desserts, chocolate or gin then pop and check out these syn free recipes.
Slimming World and weight loss information
I have a lot of Slimming World and weight loss information along with support if you want to exercise for weight loss including if you have a condition like fibromyalgia.
Have a good look around and see how I can help you achieve your weight loss goals. Request my free resources to get you started too!
Here are some quick jump buttons to help you find my most popular Slimming World guides and be sure to check out all my Slimming World recipes too.
Check out frequently asked syn values here.
Print
Recipe
Mushroom Stroganoff Recipe
Author:

JustAverageJen

Prep Time:

5 Minutes

Cook Time:

30

Total Time:

35 minutes

Yield:

4

Portions

1

x

Category:

Main meal

Method:

Hob

Cuisine:

Slimming World

Diet:

Low Calorie
---
Description
A delicious mushroom stroganoff which is Syn free on Slimming World and easy to make whilst also tasting like it should when it has cream in!
---
1 Large onion (finely chopped)
150g White mushrooms (quartered)
250g Chestnut mushrooms (quartered)
150g Mixed mushrooms (cut in small pieces) eg. Shiitake, woodland etc.
2 Vegetable stock pots
150ml Boiling water
1.5 tbsp Hendersons relish or alternative such as Worcestershire sauce etc.
1tbsp Paprika
250g Fat-free Fromage frais
Fresh Parsley to garnish
Freshly ground black pepper
---
Instructions
1. Using a large frying pan, mist with a low-calorie cooking spray and place over medium heat.
2. Saute the garlic and onion until the onion is soft but not browning.
3. Add all the mushrooms, the stock pots made with the boiling water, Hendersons, paprika and a few twists of freshly ground black pepper.
4. Bring to the boil and then turn down and simmer for 10 minutes or until the mushrooms are soft and cooked.
5. Remove from the heat and leave to stand for three minutes.
6. Gently stir in the Fromage frais and serve immediately.
---
---
Notes
If you stir in the Fromage frais while this is on the heat it may split, this can make it look not so nice and change the texture but will still be safe to eat just not as nice!
Keywords: Slimming World, Stroganoff, Syn free, fakeaway
Recipe Card powered by